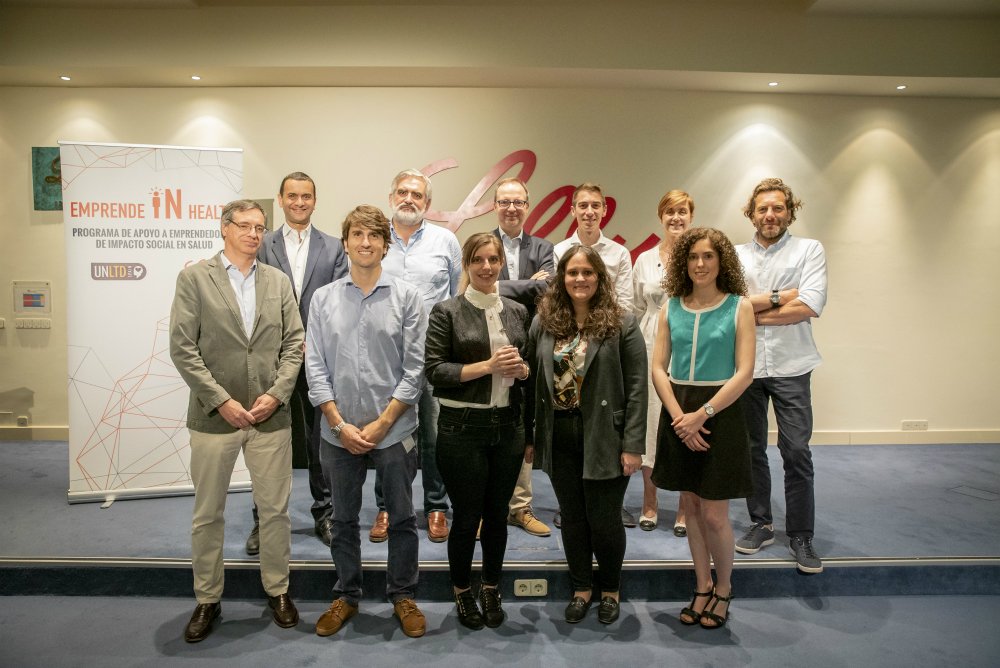 PRESS RELEASE
The 4
th

 round of Emprende inHealth will support start-ups with solutions in the areas of cardiology, gynecology, intestinal health, telemedicine, and Real World Data
The program promoted by Lilly and UnLtd Spain that supports ventures with social impact in the area of health received more than 130 applications in the fourth round.
The six entrepreneurs who will participate in the 4

th

 round of Emprende inHealth will receive personalized assessment, training, and mentoring by Lilly volunteers for six months, with the goal of accelerating their projects.
Madrid, 4 June 2019. – The support phase is starting up in the Emprende inHealth program, in which six social entrepreneurs in the healthcare field will receive assistance from UnLtd Spain and Lilly to support their innovative solutions, based on new technologies that will provide solutions to problems from which thousands of people around the world are suffering.
More than 130 applications were received in this fourth round of Emprende inHealth, and with these six new projects there will be 24 entrepreneurs who have participated in this program. All of them have received and will receive personalized assessment, training, and mentoring from Lilly employees. In addition, during the program they will participate in networking activities, with the goal of converting their projects into a sustainable business that will create social impact.
The projects selected in the 4th round of Emprende inHealth are:
ALVUM: developed by Indiehealth, is a personalized solution for intestinal health targeted at people with irritable bowel syndrome (IBS). It is a monitoring app that improves the life of the patients.
IDOVEN: technology that hopes to detect cardiac problems early in order to prevent diseases like myocardial infarction and sudden death. In order to do that, it redefines the way in which cardiac arrhythmias are diagnosed, combining artificial intelligence algorithms in the cloud with a non-invasive wearable Holter monitor. IDOVEN.
onQos: created by Persei vivarium, a Digital Health company focused on the management of Real World Data. This is a platform for oncology patients that provides resources to improve the management of the disease, generating a collection of quality data that allows the evaluation of the patient experience on a significant geographical scale.
PACIENA: a prosthesis developed by 3D Surgical Technologies for use in neo-vaginal surgery, which is aimed at optimizing the results of the interventions, avoiding complications, reducing surgical and recovery times, and increasing patient comfort due to its light and adaptable anatomic design.
Lifehub: Lifehub and Lifehub Home are approved Class IIa professional medical devices that are modular, scalable, easy to use and economical, intended for patient monitoring in multiple clinical scenarios, from hospital environments to nursing homes or primary care clinics to home use. Developed by Biodata Devices.
EVER HEALTH: EVER HEALTH is a physician technology business made up of a team of specialists who use technology to offer medical services of the highest quality at a minimal cost. Thanks to their telemedicine package they are able to address more than 92% of problems on which they are consulted.
Teresa Millán, Director of Corporate Affairs for Lilly Spain, explained that Emprende inHealth is an established program of social entrepreneurship in the healthcare sector, and "proof of that is the more than 130 applications that we received in this fourth call for projects." She added, "we are pursuing the goal of creating value, not only for the participating entrepreneurs and for the patients who benefit, but also for the Lilly volunteers who catch this entrepreneurial spirit."
Manuel Lencero, CEO and co-founder of UnLtd Spain, added that he has been excited by the start of a new round of the program. "At UnLtd Spain we look to encourage start-ups that carry social impact in their DNA. In the area of healthcare we do it through Emprende inHealth, and our purpose is to help those projects become sustainable, in order to assure their impact in patients' lives."
In the three previous rounds of Emprende inHealth, 18 businesses benefitted from more than 60 hours of training, nearly 150 of mentoring, and 550 hours of assessment, thanks to the support of 129 volunteers from Lilly and the support of UnLtd Spain.
About UnLtd Spain
UnLtd Spain is an organization that shares, promotes, and encourages social entrepreneurship, by providing training, assessment, and financing to Game Changers. Its goal is to prompt the creation and development of social entrepreneurship projects, along with efficient, innovative, and impactful solutions that respond to social and environmental challenges and are viable from the business point of view. UnLtd Spain was created in Spain in 2009, inspired by UnLtd, a British organization that is a pioneer in the support of social entrepreneurship projects. The home office, with its seat in the United Kingdom, has helped more than 10.000 social entrepreneurs in 10 countries since its founding in 2003.
About Lilly
Lilly is a global leader in healthcare services that unites passion with discovery to improve the lives of people around the world.  Our company was founded more than a century ago by a man who was committed to producing high quality medications that met real needs. Today we continue to be faithful to that mission in our work. Around the world, Lilly employees work to discover and offer medications that are vital to those who need them, to improve the understanding and treatment of diseases, and to contribute to communities through social action and volunteering. If you would like more information about Lilly, visit us at www.lilly.com and www.lilly.es.
Press Release made by Lilly and UnLtd Spain.
We are very proud of being one of the companies selected to participate in this program. Thanks Lilly and UnLtd Spain for such a great opportunity!
If you want to know more about this 4th round of "Emprende inHealth", click here.